Pujols to LaRussa: "You can't come to my birthday party!"
(St. Louis, MO) – St. Louis first baseman Albert Pujols, still visibly upset that manager Tony LaRussa decided not to play him in the All Star Game on Monday night despite having the bases loaded in the 9th, has thrown down the next step of the gauntlet that seems to be setting itself up for the Cardinals franchise: LaRussa is no longer invited to his birthday party.
"He can't come now," declared Pujols. "I'm an All Star, dammit. I deserve to be treated like one. I don't care that Prince Fielder won the vote, Tony should have started me anyways. All of Prince's home runs this year were lucky, you know that right? I'm on the cover of a FREAKING VIDEO GAME, man. And yet I don't play in the All Star game? Ridiculous."
LaRussa is trying to take it all in stride. "I needed Albert off the bench in extra innings. I had Aaron Rowand at the plate, dude. He won a World Series. I thought that was a freaking lock for at least a base hit. And as far as the birthday party is concerned…well, that's Albert's choice. It doesn't make me too mad, the ice cream cake last year sucked anyways, and he didn't even have any pony rides. That's bush league."
Cardinals GM Walt Jocketty is stuck in the middle of all of this, and is bearing down for any more trouble. "Both of these guys are consummate professionals. Albert's criticisms of Tom Glavine, berating of umpires, disrespect towards other players, and verbal spats with the media and fans aside, he's a true social icon and role model. I am sure…wait, you don't have a bobby pin, do you? My suspender just snapped, and my secretary is off today. No? Anyways, yeah, I am sure Albert and Tony can work this out." Jocketty then left for a quick spot of shuffleboard and an afternoon nap.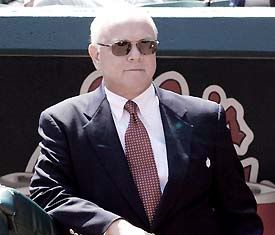 Walt Jocketty handles all the issues: coaches, All Stars, should I finally retire because these diapers are leaking?
The Cardinals, currently 3 games back of the Chicago Cubs for 2nd place in the NL Menstrual, are hoping that this latest spat can spark a fire under their team.
"That's our captain, our leader…I will follow him anywhere." stated shortstop David Eckstein.
As of press time, the Courier has found that Eckstein is currently wallowing in a pool of self loathing. He's truly a man of his word.
(In case it isn't painfully obvious, the Brickyard is a PARODY news publication, so accounts and quotes are FICTIONAL. Pujols and LaRussa didn't say or do these things…But Albert Pujols is still a whiny douche. No one should construe this fake article as being fact. Additionally, any similarity between this and other publications is entirely coincidental. Don't sue. We don't have money anyway. Article by Koz.)
Comments