(Chicago, IL) – This week has seen the Cubs come back late in dramatic fashion in several games, finding a way to win when a win seemed just out of reach. No game exemplifies this come-back spirit more than Friday's win over the Colorado Rockies. Trailing 8-0 early, the Cubs found a way – as if by magic – to come all the way back in the late innings, and pull out a 10-9 win.
One young Cubs fan thinks he holds the secret to the Cubs victories this week – and he wears it on his head. Read more
(Chicago, IL) – The Chicago Cubs' new center fielder and former enemy number one Jim Edmonds skipped last night's series opener against the Colorado Rockies. Was he nursing a sore back, or taking a day off to clear his mind after his pathetic start with the Cubs? It would make sense, given his lack of production.
No, he was hanging back in his Chicago condo so that he could watch the LOST season finale. And his teammates were pretty ok with it. Read more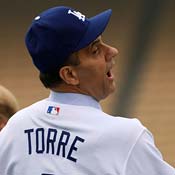 (Chicago, IL) – The Chicago Cubs completed a sweep of the Los Angeles Dodgers last night in dramatic fashion, following a walk-off single by Alfonso Soriano in the 10th inning. After the game, the Dodger clubhouse was a veritable powderkeg of emotion from the top down, with one exception: Manager Joe Torre sat quietly in the corner, looking puzzled.
Asked what he was thinking, Torre took a moment to collect his thoughts before sharing that he was simply "befuddled right now." Was he befuddled as to how his Dodgers could lose three straight close games to the Cubs? Or was it how his closer, Takashi Saito could blow the game last night?
No. Torre was trying to figure out who was playing shortstop for his team. Read more
(Chicago, IL) – Chicago Cubs right fielder Kosuke Fukudome was celebrated at Wrigley Field last night with his very own bobblehead. And Fukudome returned the favor by going 2-3, driving in a run, and making two spectacular catches in Chicago's 3-1 win over the Los Angeles Dodgers.
Fascinated by the toy depiction, Fukudome had a great deal to say. Read more
Editor's Note: What happened to Geremi Gonzalez was truly a tragedy. Our thoughts and prayers go out to his friends and family. Humor is how some of us grieve.
(Caracas, Venezuela) – A former pitcher for the Chicago Cubs passed away yesterday in Venezuela. Geremi Gonzalez, 33, pitched in 131 Major League games, compiling 30 wins – 11 of which came for the Cubs in 1997.
Gonzalez died after being struck by a lightning bolt – an affliction he had suffered with for nanoseconds. Read more
(Pittsburgh, PA) – The Cubs wrapped up their weekend series in Pittsburgh against the Pirates with back-to-back crushing, extra inning defeats. Each game was in hand for the Cubs in the ninth, each game was blown that inning, and each game was won by a Jason Bay walk off single. The blame went to closer Kerry Wood for Saturday's loss, but today, fans turned their ire toward left fielder Alfonso Soriano.
Soriano dropped an easy one-out fly ball in the 9th, which allowed the tying run to score. The Pirates went on to win in the 11th. But we probably can't say anything, because Soriano homered earlier in the game. Read more
(Indianapolis, IN) – Thousands will flock this Memorial Day weekend to Indianapolis, Indiana to watch racing's biggest event: The Indianapolis 500. But perhaps the larger story is the ever-increasing popularity of one of the drivers.
Danica Patrick – as well known for her sexy physique and stunning looks as her sport – is a tremendous success story, and it is no surprise that fans have been drawn to her. But that doesn't mean her story isn't full of surprises. Read more
(Elmont, NY) – The Belmont Stakes, the third leg of the throroughbred Triple Crown following the Kentucky Derby and the Preakness Stakes, is held annually in Elmont, New York. Interest in the event, outside of the horse racing world, it often tempered unless a horse has already won the first two legs of the Triple Crown. Fortunately for organizers of the race, taking place June 7th this year, the horse Big Brown won the Derby and then also the Preakness. Instantly, the event was transformed into "the Belmont Stakes" from "that horsey race that nobody gives a shit about."
But they want you to know that's not the only reason to get excited about the Belmont Stakes this year. Read more
(Houston, TX) – The Chicago Cubs came into their series against the Houston Astros as one of the hottest teams in the league, but leave slightly beaten down, after losing two of three to the Astros. The Cubs really aren't even sure how it happened – and worse still, they aren't really even sure what they were playing. It was either baseball, or miniature golf. The Astros ballpark, Minute Maid Park, made it impossible to tell. Read more
(Houston, TX) – Chemistry is important in the game of baseball. Some weigh it more heavily than others, but it's safe to say that everyone places some value on the intangible. There is one member of the Houston Astros, however, that truly values team chemistry: Lance Berkman.
"I just think it's important for me to step up now that Craig Biggio and Brad Ausmus are gone," Berkman would state. When told that Brad Ausmus is still on the team, Berkman smirked and gave a sarcastic "sure he is." Read more