Dodgers Manager Joe Torre: "Hu's on Short? – No, seriously."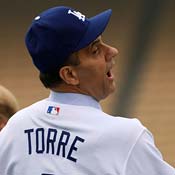 (Chicago, IL) – The Chicago Cubs completed a sweep of the Los Angeles Dodgers last night in dramatic fashion, following a walk-off single by Alfonso Soriano in the 10th inning. After the game, the Dodger clubhouse was a veritable powderkeg of emotion from the top down, with one exception: Manager Joe Torre sat quietly in the corner, looking puzzled.
Asked what he was thinking, Torre took a moment to collect his thoughts before sharing that he was simply "befuddled right now." Was he befuddled as to how his Dodgers could lose three straight close games to the Cubs? Or was it how his closer, Takashi Saito could blow the game last night?
No. Torre was trying to figure out who was playing shortstop for his team."Look, I know that the guy out at shortstop is not our normal shortstop. I don't recognize him," Torre, 67, stammered. "I just want to know who is on short." Currently, youngster Chin-lung Hu is subbing at shortstop for the Dodgers, filling in for Rafael Furcal. Cub fans may remember Furcal as the man who crashed into Derrek Lee two years ago, causing Lee a serious wrist injury.
A few clubhouse reporters chuckled at Torre's apparent joke, a reference to the classic Abbott and Costello "Who's on First?" routine. But Torre continued unphased. "Why the hell are you all laughing? I just want to know who is on short, for crying out loud." An attendant approached Torre and whispered something, presumably the answer, in his ear.
"Hu's on short? That is not a statement. I'm asking you all here. Hu is on short? I'm not doing schtick here, I'm just really, really old. I don't know what the hell is going on."
Laughter erupted in the otherwise tense clubhouse, but it only confused and infuriated Torre further. "Damn all of you! I just want to confirm that Hu is on short! Stop laughing! I am from New York, you bastards! I will have all of you killed!"
Torre was restrained for a few minutes and taken into an office before returning, calmer, to reporters. "I'm sorry for my outburst. I was a bit confused, and let's just say I was making a joke. Ok. So my shortstop's name is Chin-lung Hu. That should be easy enough to remember. Chins and lungs, I've got two of each."
Following the ugly scene, Dodger management has reportedly ceased looking into signing Korean sensations Kim-do Wat and Kee-luk Idunno.
(In case it isn't painfully obvious, the Brickyard is a PARODY news publication, so accounts and quotes are FICTIONAL. Torre would never be so confused about a player, and would never attempt such a lame joke at his player's expense. But we would. We're that lame. No one should construe this fake article as being fact. Additionally, any similarity between this and other publications is entirely coincidental. Don't sue. We don't have money anyway.)
Comments