Doctors Concede Tiger Woods "Probably didn't need that bionic knee we gave him"
(Torrey Pines, CA) – Tiger Woods has made a career of doing the incredible – and making it look easy. Yesterday, he won the U.S. Open, his third, after a 19-hole playoff. That, alone, was not incredible. Afterall, everyone knows Tiger is a fierce competitor. What is incredible is that he was able to do this in his first tournament – indeed his first few rounds of golf – since knee surgery just weeks ago. As Tiger winced and limped around the course, his performance was reminiscent of Willis Reed for the New York Knicks many years ago.
But the doctors who performed Tiger's knee surgery have admitted that maybe he doesn't deserve all of the credit.
"Sure, it's impressive what he's done, but a lot of people could do it with the equipment we stuffed in his knee," Dr. Rejkik Handel said late Monday. "Tiger came in for a knee scope, and he came out with a $6 million knee."
Woods, arguable the greatest golfer of all time got a decided boost from his new titanium-nickel alloy, hydrolic-powered, laser sight guided, grenade deploying bionic knee, his doctors say. But why would they give such a knee to a man who clearly has such amazing physical gifts already?
"We're prepared to admit that [Woods] probably didn't need that bionic knee we gave him," Handel said. "But he looked so sad and helpless on the table, those puppy dog eyes and all. And we were a little distracted by his wife's [model Elin Nordgren] um, un-needing-surgery-knees…"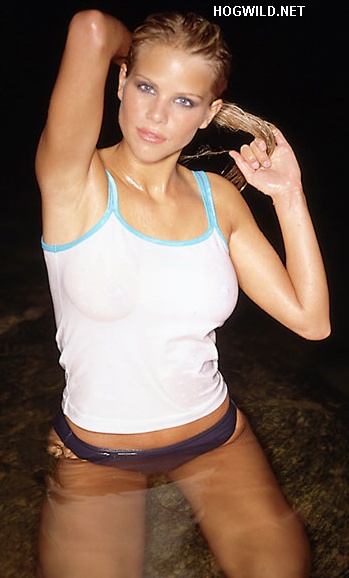 It was at that moment that Tiger Woods' doctors decided that they could rebuild him, they had the technology – of course they admitted that they also had the technology to bash his hips in, rendering his career over. Semantics, they say.
"We wanted to help him end his embarrasingly long 6 year U.S. Open drought. No man should be forced to live with such shame."
Following the confessions of Woods' doctors, will history remember his victory differently? Is it tainted? Is it tarnished by the fact that we now know those weren't grimaces of pain Tiger was making, but instead, he was simply harnessing the power of the bionic knee?
Either way, word was rapidly spreading around the golf world of Woods' doctors success, and others were lining up for bionic surgeries of their own. Woods' US Open playoff opponent, Rocco Mediate has asked the doctors to surgically graft a bionic nametag onto his chest, so that people will know who the hell he is.
Before everyone gets excited, the doctors do warn that their bionic surgeries are not always effective. Many years ago, a young golfer came to them for a pair of bionic legs when the surgery went completely awry. He's never been the same, doctors say. That young golfer was Casey Martin.
"Have you seen his legs since then?" Handel recalls. "Creepy."
In case it isn't painfully obvious, the Brickyard is a PARODY news publication, intended for humor, so accounts and quotes are FICTIONAL. Tiger probably does not have a bionic knee. But to have gotten that wife… he must have a bionic something. No one should construe this fake article as being fact. Additionally, any similarity between this and other publications is entirely coincidental. Don't sue. We don't have money anyway.
Comments