Michael Phelps Wins Record-Breaking Eight Gold Medals, but Has to Shave Arms to Do It
(Beijing, China) – It was a record-smashing week in Beijing for U.S. Men's Swimming superstar Michael Phelps. When he secured his eighth gold medal on Sunday, he broke Mark Spitz's 36-year-old record for gold medals in a single Olympics. The nation – perhaps the world – cheered Phelps on, and watched in a amazement at his historic accomplishment.
But this story has an ugly side that the mainstream media refuses to report.
Yes, Michael Phelps won an amazing eight gold medals…but at what cost?
It seems that before Phelps jumped into the pool this week, in order to streamline his body in the water, he did the unthinkable: he shaved his arms. Though it will require further video evidence to confirm, he may have even shaved his armpits. That is not an appropriate use of a razor blade. Just ask Carlos Zambrano.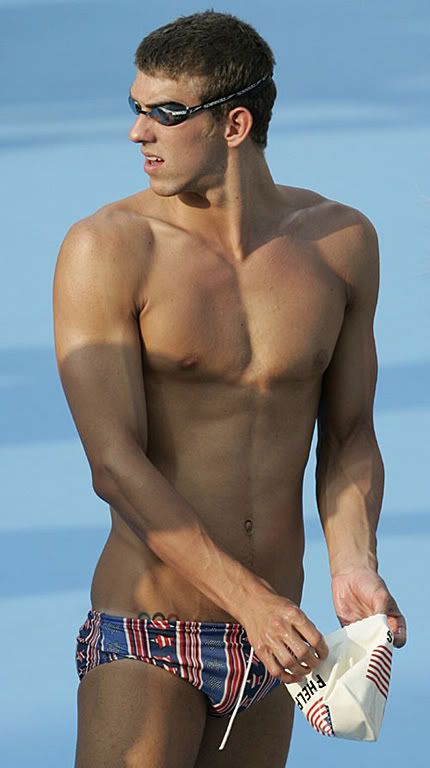 Even if he does the smart thing and melts down his eight gold medals, and forms them into one gigantic super medal, it still hardly seems worth it.
Though he has the body of a Greek – well, Olympic – God, his manliness is forever tainted by the fact that his skin is as hairless as a tiny baby. One that had also shaved its arms.
Sure, he could probably get any woman he wants now, and could probably beat me up with his left pinky. But any self-respecting man knows that the only acceptable place to shave is the face, and maybe the coinpurse for a special occasion. Though if you shave that area, beware of Jim Edmonds' grabby hands.
So while the media paints Michael Phelps as an American hero, we are willing to report the truth. What he did was impressive. But you, sir, Michael Phelps, may keep your eight gold medals, millions of dollars, and scores of hot chicks. I will keep my arm hair.
If baseball, football and basketball aren't your thing – and you like, for example, swimming humor – check out our other sports parody news: http://www.thecubsbrickyard.com/category/othersports/
Comments