Teammates Taking Advantage of Anger Management Graduate Carlos Zambrano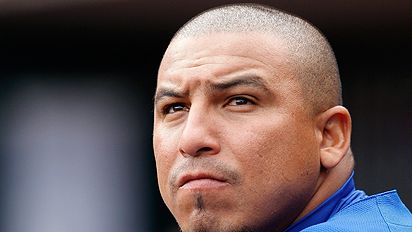 (Chicago, IL) – The 2010 season was, by all accounts, a disappointment for the Chicago Cubs. But at least one Cub feels like he's now set up for a better 2011 because of the trying season. Carlos Zambrano finished the season on a tear following his reinstatement after a mid-season blowup at teammates.
Zambrano credits his second-half success to extensive therapy sessions designed to drill down to the root of Zambrano's hostile temperament and inappropriately aggressive reactions. The therapy worked famously, but rumors are leaking from the Cubs' clubhouse that it may have worked a little too well.
"We love that Big Z is more relaxed now. More easy-going," fellow starter Tom Gorzelanny said. "I knew the therapy had worked when I accidently spilled my drink on Z's favorite shirt a few weeks ago, and he just sat there and told me it was ok. I thought he was trying to psyche me out before pummelling me mercilously, but nothing happened. Sure, by then I'd already peed my pants, but my face remains as beautifully untouched as ever."
Soon thereafter, word spread around the clubhouse that the newly mellowed Zambrano was both easy going – and an easy mark. Zambrano regularly found himself the victim of taunts and pranks, including a shaved head, untied shoes, a clubhouse toll, and the newly-formed "Wedgie Patrol." Worse still, Ryan Dempster repeatedly stole Zambrano's cup, leading to more than a couple scary moments on the mound.
Unfortunately for Zambrano, the torment didn't stop when the team left the ballpark. "I've asked Z to help me move fourteen times since August," Dempster said with a laugh. "He comes to move my furniture from the first floor to the third, and then back again. He keeps coming, though. And I make him bring the beer."
The evidence of the change in Zambrano is clear when he discusses his teammates' newfound boldness.
"The guys are just having fun with me, and fun is a good thing," Zambrano said. "Sure, sometimes they take it a bit far, and the anger lightning rises up in my face to my hatred center, but I'm usually able to center myself and use the protecting force of my sacred unicorn crystal."
Zambrano uses the qualifier "usually," of course, because of the Darwin Barney incident. In late September, the diminutive rookie infielder wet willied Zambrano one too many times before finding himself on the receiving end of Zambrano's bottled-up rage. Barney's memorial service was held last Thursday and the team has donated a brick at Wrigley Field in his memory.
Comments