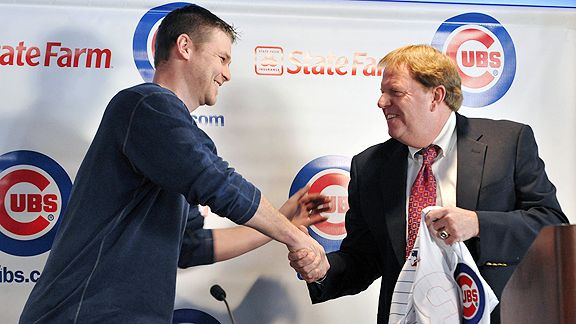 (Chicago, IL) – Chicago Cubs fans were treated to a wonderful holiday surprise yesterday, when the Cubs announced that they had signed former favorite son, Kerry Wood.
It was a treat to Wood, too, who was excited to come back to the team that drafted him, and for whom he has pitched most of his career. Wood was so excited, in fact, that he accepted millions less from the Cubs.
But it turns out that Wood may have been excited for all the wrong reasons. Read more
(Dallas, TX) – The MLB hot stove is in full swing as the Winter Meetings conclude today. But even with all the heat, the top free agent on the market remains unsigned.
Starting pitcher Cliff Lee is being pursued by multiple teams, including his "hometown" Texas Rangers, but he hasn't yet given an indication of which seven year, $140+ million deal he's going to accept. We're sure it's agonizing.
Fortunately for everyone, Lee is expected to announce his decision on a broadcast tomorrow night, aptly titled "The Decision." Read more