No One Has Heart to Tell Kerry Wood That the Cubs Aren't the Same This Time Around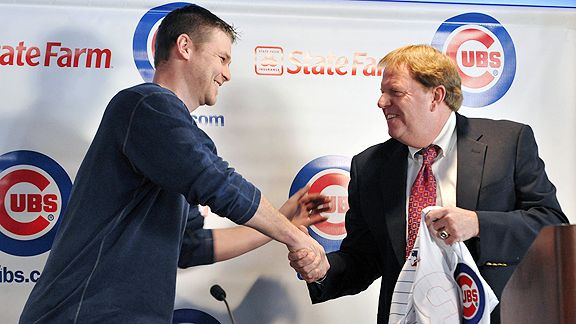 (Chicago, IL) – Chicago Cubs fans were treated to a wonderful holiday surprise yesterday, when the Cubs announced that they had signed former favorite son, Kerry Wood.
It was a treat to Wood, too, who was excited to come back to the team that drafted him, and for whom he has pitched most of his career. Wood was so excited, in fact, that he accepted millions less from the Cubs.
But it turns out that Wood may have been excited for all the wrong reasons.
"I'll admit, I haven't been keeping the closest tabs on the Cubs," Wood said at his signing day press conference. "But they were so good when I left, and that was like two years ago. Just imagine how good they must be now!"
Indeed, the Cubs were excellent the last time Wood was a member of the team – they were fresh off back-to-back division titles, and Wood closed for the NL-leading Cubs, who won 97 games in 2008. But the last two seasons have been tremendously disappointing, and the Cubs have vastly underachieved.
"I'm thrilled to have Woody back," third baseman Aramis Ramirez said. "I think we all are. But I'm getting the sense that he hasn't followed our abortion of a team very closely over the past two seasons."
"I've been pretty focused on the American League the last two years," Wood said, "but my AL teams never made it to the World Series. I can only assume the Cubs were the NL representatives. I'm just pissed I missed out! It's going to be great to see all the guys again – Ted, Derrek, Ryan, Mike, Mark, Rich, Jason. You know, the guys that made this such a great team."
Like Ramirez, Wood's teammates are happy he's back, but none wants to explain how truly horrible the Cubs have been while he's been gone – and worse – how weak the team is expected to be in 2011.
"He keeps running around with this big smile on his face, saying he's come back to the best team in baseball," closer Carlos Marmol explained. "I'm certainly not going to be the one to tell him he just signed up for a Summer of disappointment and a Fall of apathy. I did warn him about the Toyota sign, though."
Comments