Carlos Silva Found Scratching at Wrigley's Back Door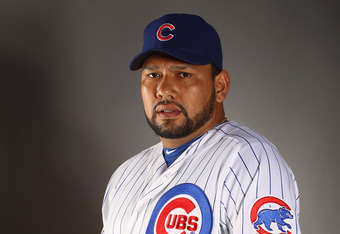 (Chicago, IL) – As the Chicago Cubs continue their first road trip of the season, it seems the team may have left some unfinished business at home.
Recently released pitcher Carlos Silva was discovered by officials from the Chicago Animal Shelter Alliance late Friday night. A representative described Silva as "an emaciated (for him) 270 pounds, scratching and pulling at doors around Wrigley Field."
Silva was given the boot near the end of Spring Training after he failed to make the 25-man roster and refused an assignment to AAA Iowa. But CASA officials believe he found his way back to Wrigley Field after learning that Cubs pitchers Randy Wells and Andrew Cashner would be headed to the disabled list.
Silva apparently didn't realize that the Cubs were on the road, and that they had absolutely no interest whatsoever in reuniting with the cantankerous pitcher.
"I thought I was too proud to accept a job as a minor league pitcher," Silva explained while rummaging through a nearby trash can. "But after a week, you realize that, if you're not too proud to scrape the cheese of a discarded pizza box, you're not too proud for very much."
"I'm just hoping to get another chance," Silva concluded as he wandered back and forth by the Batting Cages.
After exchanging posterior sniffs with another pitcher who didn't make the Cubs' roster, Braden Looper, Silva galloped off after a departing automobile.
Comments