(Chicago, IL) – Fantasy football season has arrived, and no one coule be more excited about it than Chicago Cubs pitcher Chris Volstad, who proudly competes in as many as six fantasy leagues in a given season, "depending on how many people want to have their [behinds] beat." Well, no one could be more excited than Volstad … save for his teammates, who hear about how prowess regularly. Read more
(Chicago, IL) – The 2011 Chicago Cubs were many things, but successful wasn't one of those things.
There is, of course, plenty of blame to go around, between players and the front office.
But many fans point the finger squarely at rookie manager, Mike Quade. And the team agrees. Read more
(Pittsburgh, PA) – The 2011 season has been anything but successful for the Chicago Cubs. Terrible play on the field, distractions off the field, and a front office that doesn't seem to know the best direction for the club have all conspired to derail any meaningful progress.
And, to make matters worse, the trade deadline passed this weekend, and the Cubs stood pat despite being 20 games under .500.
At least one Cub wishes he'd been dealt. Hard. Read more
(Chicago, IL) – It's been a frustrating year in Chicago. The Cubs have been under .500 for most of the season, and, with a rampant injury problem, the future doesn't look much brighter.
Things came to a head last night against the Houston Astros, a team the Cubs should be taking behind the woodshed. After taking a 3-1 lead in the bottom of the 8th, closer Carlos Marmol gave up six runs in the top of the ninth, blowing the game for the Cubs. The defeat clinched a series loss against the Astros, and sent the Cubs' playoff hopes further down the drain.
Starter Carlos Zambrano didn't take the loss as well as he pitched in the game.
(Chicago, IL) – The Chicago Cubs are mired in an early season slump, and there doesn't appear to be much help coming from outside sources. No, we don't mean a surprise signing or early-season trade. We mean from the supernatural forces associated with magazine curses.
First, it was phenom shortstop Starlin Castro, after appearing on the cover of Sports Illustrated earlier this year, who fell victim to the long-feared SI cover jinx. And then, without warning, starting catcher Geovany Soto went down with a groin strain.
The injury came just weeks after Soto was featured on the cover of 'Redbook.' Read more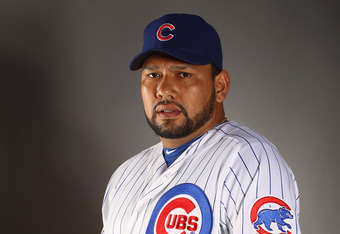 (Chicago, IL) – As the Chicago Cubs continue their first road trip of the season, it seems the team may have left some unfinished business at home.
Recently released pitcher Carlos Silva was discovered by officials from the Chicago Animal Shelter Alliance late Friday night. A representative described Silva as "an emaciated (for him) 270 pounds, scratching and pulling at doors around Wrigley Field."
(Mesa, AZ) – Spring has gone along well enough for the Chicago Cubs. Although they sport a losing record, individual players feel good about where they stand, and most are optimistic heading into the final two weeks of Spring Training.
None has fared better than young shortstop Starlin Castro, who is hitting .410 with three home runs on the Spring.
But Castro, for all his on-field success, remains unsatisfied with his professional life. Like most celebrities, Castro yearns to be something he isn't yet: a singer. Read more
(Mesa, AZ) – It's been a rough first week of Spring Training action for the Chicago Cubs. Poor offense, weak pitching, and miserable defense have conspired to leave the Cubs not only with a losing record, but also with an extremely frustrated manager.
The low point happened just after the first inning of Wednesday's game against the Brewers. With shoddy defense behind him, starting rotation hopeful Carlos Silva gave up six runs in a disastrous first inning, and then got into a dugout fight with teammate Aramis Ramirez. The scene was eerily reminiscent of a fight last June between pitcher Carlos Zambrano and former Cub Derrek Lee, again, after a rough first inning.
Ramirez says things have been smoothed over with Silva, but things are still quite tense in the clubhouse. That's in large part, sources say, because ever since the Silva-Ramirez tilt, pitcher Carlos Marmol has desperately been trying to pick a fight. Read more
(Mesa, AZ) – Chicago Cubs outfielder Alfonso Soriano has set today as the deadline for he and the Cubs to reach an agreement on a contract extension. Soriano, who reported to Spring Training today, says he doesn't want his contract situation to be a distraction. The announcement of a deadline was a surprise to many, as Soriano will not be a free agent after the 2011 season.
Indeed, Soriano is currently signed to an exhorbitant deal that will pay him $18 million per year for the next four seasons Read more
(Chicago, IL) – It's late January and the Chicago Cubs front office is buzzing. Spring Training is still a few weeks away, and General Manager Jim Hendry is hard at work putting the final touches on his team's Spring roster.
With the Cubs are looking to compete in 2011, finding the right pieces early is critical to their success. That's why Hendry has brought in a broad range of players to compete in Mesa, Arizona this year, each hoping to claim a spot on the 25-man roster. The more, the Cubs say, the better.
Of course, it doesn't explain why the Cubs gave Justin Bieber a non-roster invitation to Spring Training. Read more